Categorized: Front Page, Students Tagged: Dr. Ambedkar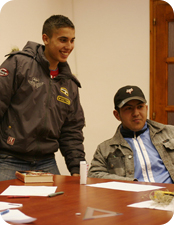 Our school is named after Dr. Bhimrao Ramji Ambedkar (April 14, 1891-December 6, 1956) an Indian jurist, scholar and political leader. Born into a poor, dalit (untouchable) family and subjected to intense socio-economic discrimination, Ambedkar spent his life fighting against the Indian caste system and the idea of untouchability. We see his message being relevant for gypsies in our country today.
Our school is serving in a region of northern Hungary where the proportion of high school graduates having matriculation examination is under 1%. At the gypsy settlements of Sajokaza, Lak, Alsovadasz, Homrogd there are thousands of people without the chance of secondary education. We believe, that the application of proper pedagogy will result in the elevation of above mentioned ratio similar to any other group of today's society, and our students so become competitive participants of the labour market.