2009.05.11.

Categorized: Front Page, History Tagged: Radio France Internationale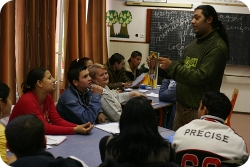 En Hongrie, plus de la moitié des jeunes passent leur bac, mais seuls 5% des enfants tsiganes obtiennent ce diplôme. Tibor Derdak, enseignant et ancien député au premier parlement démocratiquement élu en 1990, milite pour un autre système d'éducation, plus adapté aux jeunes tsiganes. Il a fondé le lycée Ambedkar, unique en Hongrie.

Get the Flash Player to see this player.

Ouvert fin 2007, il accueille aujourd'hui plus de 200 élèves : en majorité des roms, mais il est ouvert à tous ceux, jeunes ou adultes, qui souhaitent passer le bac. Un reportage de Florence la Bruyère.
Source: Radio France Internationale